Dr.Ganesh Chander Shrotriya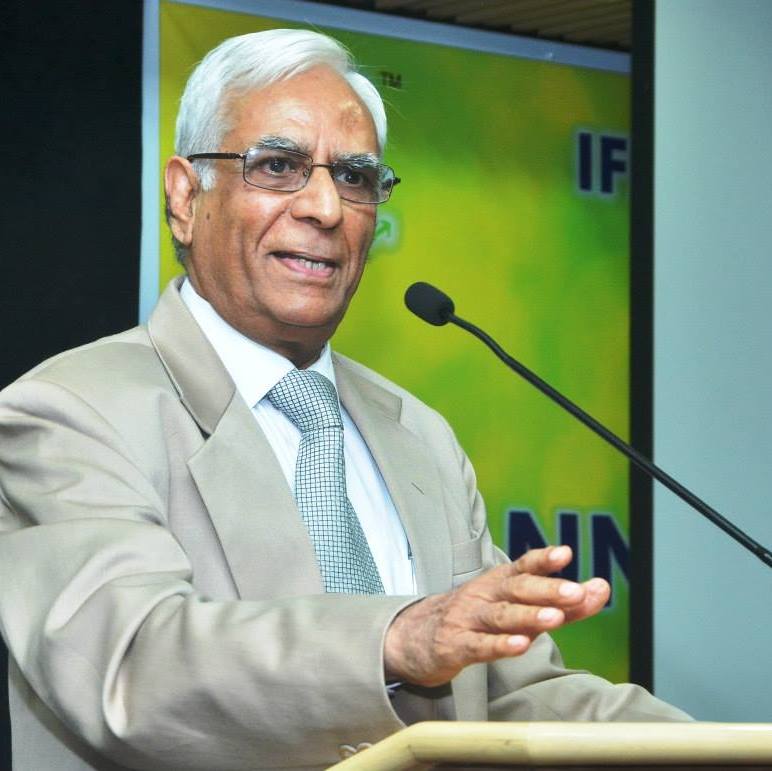 Dr.Ganesh Chander Shrotriya is chairman Kisan Sanchar and is an Agronomist by qualification and holds M. Sc. Ag. and a Ph.D. degree in Agronomy.
He has wide experience in agriculture and rural development. In his professional career of over 54 years, he has served the Department of Agriculture-Government of Rajasthan, Hindustan Copper Limited (Government of India Undertaking), Chad Basin Development Authority (CBDA), Nigeria (West Africa), Indian Farmers Fertiliser Cooperative Limited (IFFCO), Potash Promotion Project (Project of International Potash Company, Moscow) in various capacities.
Dr. Shrotriya has life long experience in Content Planning, Developing Liaison and Linkages for Content Sourcing, Establishing and Maintaining a Content Management System, Monitoring Content Dissemination, and Evaluating the Content function of the organization.
Dr. Shrotriya is a Fellow of the Indian Society of Agronomy and is also associated with several national and international organizations as a consultant, advisor, patron, trainer, life member, etc. He is actively associated with activities of the fertilizer industry, nationally and internationally.
He is an established communicator and has widely used ICT tools, including Radio, TV, films, print media, and inter-personal communication medium for information dissemination to rural communities. He has more than 100 published papers and articles, scripted almost 20 documentaries, edited several books and proceedings, and participated in a large number of national and international training, seminars, conferences, and workshops.
Rakesh Sapra
Rakesh Sapra heads Corporate Relations Department at Kisan Sanchar. He develops the partnerships with Corporate Sector for associating with Kisan Sanchar's flagship program to provide weather intelligence to every panchayat in 6000 blocks. Kisan Sanchar is associating India Meteorological Department, Ministry of Earth Sciences, Government of India since 2015 in providing weather intelligence services to farmers.
Rakesh Sapra a seasoned professional with 35 years of professional experience in Sales (B2C and B2B) and Project handling across Industrial products, Durable products, FMCG industry and IT facility Infrastructure and Management services. A thorough Professional, he has ground level experience in Dealer Management, Distribution, Sales Merchandising, Promotion and Forecasting of Brands.
He has been at the forefront while formulating appropriate strategic plans and
recommendations pertaining to Sales, Marketing and Administrative policies of the
product.
During his dynamic and vibrant service, he has handled efficiently and satisfactorily various illustrious and pioneering companies like Cholamandalam Finance, Cholamandalam MS General Insurance, Parrys Engineering, Royal Enfield, Adani (Airport), CG Power, TI Bicycle, TI Diamond chain, Abrasive and Ceramics, Somany Tiles, TCNS (Aurelia and W), ABFRL, Pantaloon and Tasva ( Aditya Birla Group co), Pluss Advance, Quicksand, 24×7, Equitas Finance, Coromandel Fertilizers, Veritas Finance, Asirvad Finance
He has significantly worked very closely with PWC – in rolling out of D 365 in
various organizations. A recipient of acknowledgements and recognition, latest being The Shine Award. He has brought laurels to his company by being awarded with Integrity award from Murugappa Group for maintaining the 5 lights of the group namely Integrity,
Passion, Quality, Respect and Responsibility.
Sandeep Singh
Sandeep Singh MCA is key information architect at Kisan Sanchar. He is a seasoned software engineer having 17 years of professional experience in developing information engines and high quality delivery systems.
He is a natural leader and have great command on his work. He is a profound enabler and team leader. He is giving shape to the Kisan Sanchar Flagship Program of providing weather intelligence to 2.5 Lakh Gram Panchayats in 6000 blocks of India.
He comes from a farming family background and has great faith that authentic and actionable knowledge available at right time is a key enabler to farmers for improving their productivity and profitability.
Nisha Kaushik
Nisha Kaushik is a Post Graduate in Mass Communication from Guru Jambheshwar University, Hisar, Haryana. She is heads the Admin Desk Kisan Sanchar and manages all the communication being sent to farmers from all the desks. She possesses excellent drafting skills in Hindi, English, and Punjabi, and she has good experience in Publishing, Film Production activities. She has good communication skills and handled big assignments in the past. She has exposure to handling international projects of international organizations. She has a great understanding of the information needs of the rural communities.
Sh. Rajender Verma श्री राजेन्द्र वर्मा
राजेन्द्र वर्मा जी हिंदी विषय से पोस्टग्रेजुएट हैं और वे किसान संचार के क्रिएटिव वर्क्स डिपार्टमेंट के हेड के तौर पर सेवारत है वे हरियाणा के मशहूर कार्टूनिस्ट एवं क्रिएटिव आर्टिस्ट हैं और इन्हें हरियाणा कि बोली और लोकज्ञान की गहरी समझ है इन्होने दैनिकभास्कर ग्रुप में साल 2000 से 2021 तक काम किया है राजेन्द्र वर्मा जी बताते हैं कि मैंने 1992 से 2000 तक हिन्दी के मशहूर उपन्यासकार श्री वेदप्रकाश शर्मा जी के साथ उनकी फर्म तुलसी पॉकेट बुक्स, मेरठ में काम किया।
इसके अलावा राधा पॉकेट बुक्स (मेरठ), पवन पॉकेट बुक्स व गोयल पॉकेट बुक्स, दिल्ली में भी काम किया। साथ में अध्यापन कार्य भी जारी रहा। मन में खुशफहमी थी कि जब तक सृष्टि में बच्चे हैं तब तक कॉमिक्स का काम खत्म नहीं होगा। मगर यह मेरी भूल थी। वक्त ने करवट ली और कार्टून चैनलों का दौर शुरू हुआ जिसने पॉकेट बुक्स को धराशायी कर दिया। रोजी रोटी के लाले पड़ गए। इसी दौरान हरियाणा में समाचार पत्र दैनिक भास्कर ने पाव जमाए। सन 2000 में मैंने बतौर हरियाणवी कार्टूनिस्ट इसमें ज्वाइन किया।
मेरे कार्टून पात्र चोटी वाले को समूचे हरियाणा में सर आंखों पर बैठाया। पूरे बीस सालों तक उसका जादू सर चढ़ कर बोला। इसी बीच नवचयनित जेबीटी टीचर्स का मामला तूल पकड़ चुका था। व्यवस्था उन्हें ज्वाइनिंग लेटर नहीं दे रही थी। वे प्रदर्शन कर रहे थे और सरकार उनपर तरह-तरह के जुल्म कर रही थी। एक कार्टूनिस्ट होने के नाते मैंने इस मामले को गंभीरता से लिया और व्यवस्था पर कार्टूनों के माध्यम से तीखे हमले किए जिससे व्यवस्था तिलमिला उठी और आखिरकार उसे नवचयनित टीचर्स को ज्वाइनिंग लेटर देने ही पड़े। उन अध्यापकों के संगठन मुखिया मिठाई लेकर मेरे घर पर बधाई व धन्यवाद करने आए। मैं आज भी इस वाकये कौ स्मरण करके सुकून प्राप्त करता हूं कि मेरे कार्टून किसी के काम तो आए।